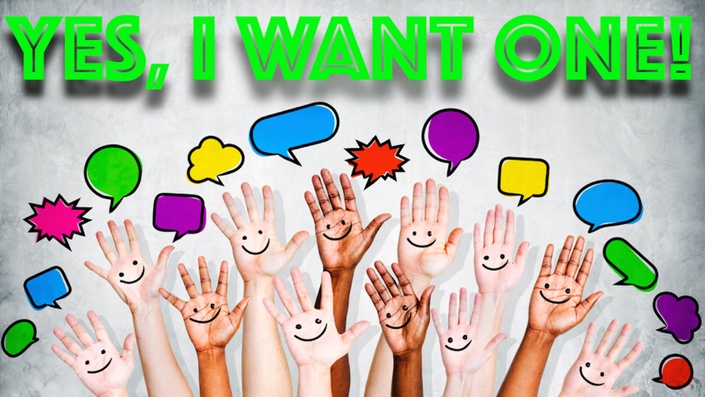 Get Customers Excited And Sell More Right NOW!
How to get Customers and Investors Excited to Throw Money Your Way!
Watch Promo
How to get Customers and Investors Excited to Throw Money Your Way!

Why do we remember "Little Red Riding Hood" after so many years? Does the name "Mr. Spock" ring a bell? On the other hand, why do our prospects forget our presentations 10 minutes after we leave their office?
Wouldn't it be great to have the answers to these questions? It certainly would be if you wanted to sell something. Oh, you're not in sales you say? Are you sure?
When was the last time you wanted to persuade your co-worker to follow your lead? Or the last time you wanted your spouse to go along with your ideas? Or the last time you wanted to convince your boss to give into the crazy idea of giving you a raise? Here's the simple truth: These are all sales opportunities. Plain and simple! You want to close the sale, don't you?
Well, now you can.
This course will teach you how to build bestselling stories and sell anything to anybody at anytime. No rocket science, just simple easy methods for everybody.
You will get step by step instructions.
You will get secrets elicited from the world's best: Steve Jobs, Stephen Spielberg, and many others.
You will see best practice cases. Real cases from my successful customers.
You can learn how to become a StorySculptor yourself and help others to craft bestselling stories.
You will get access to a vast reservoir of different resources and ONE EXITING BOOK (maybe two) :-)
It's Easy, Convenient and Simple to learn. And it has a lot to do with "Little Red Riding Hood," "Snow White," the legendary "Mr. Spock," and many other stories that we remember. Good stories stick, while our sales pitch almost never does. Good stories are remembered, while our sales pitch goes in one ear and out the other. Good stories sell! While our sales pitch doesn't (most of the time).
So how do we change our sales pitch to convince our prospects and turn them not only into happy customers, but into raving fans?
Well, in short, we need to tell a story!
That's it! A story will do it!
In this course you will find the strategies you need to build an awesome story which excites, will be remembered, and which will be retold many times over.
Come on and join! You won't regret it!
FULL 30 DAY MONEY BACK GUARANTEE in effect!
Your Instructor
I'm a storyteller and the StorySculptor. I help to create stories that excite, stories that convince - stories that sell. I provide tools that will help you to become successful in selling everything to anybody. Selling everything to anybody is not limited to products. You can use it to pitch successfully your start-up ideas to investors or to excite your employees or your familiy members.
Follow my on Twitter @NoStoryNoBizz and visit my blog www.storysculptor.net
Here is more about me.
Have you ever mowed a lawn, landscaped a golf course, or harvested a field of grain? Each of these tasks obviously requires different, specialized tools. For example, a lawnmower that works on a small domestic yard will be ineffective on a farm. Of course, for a golf course you might even need more than one machine. And this is what I do: not mowing grass, but analyzing what people need to "mow" or "cultivate" and what machine is best for the job. I don't stop there, either. I also deliver the equipment and train the employees who will be using it to reap the harvest.
Every salesperson works in a target market composed of individuals. I want to stress the idea of individuals here, as I frequently hear people use the phrase "target market" to refer to a hypothetical economic entity independent of it's people. This is a grave error, but we're here to talk about my work, not my pet peeves. I analyze markets and determine what products should be sold to which people. This is where I determine what needs to be "cultivated": a lawn, a golf course, or a farm. I then develop an appropriate sales story that introduces the product or service in question. The story is crafted to enter the customer's subconscious and live there for a long time. These are the stories that sell!
The next step is training the salespeople to convey this story perfectly, convincingly, and comfortably. They then start to gain new clients and book orders like never before, and their customers come away from the transaction more excited and satisfied, which means they are more likely to talk about it and encouraged their friends, neighbors, and/or colleagues to make the purchase, too.
Am I a sales trainer? A professor? A rhetorician? No! I'm a storyteller. Sales trainers teach selling techniques, rhetoricians know how to persuade with words, and sales consultants are mainly concerned with the structure of the sale and the best methods for controlling distribution. These aren't optimal sales approaches. Think of it this way: Suppose that you taught your employees how to build a simple lawnmower with a screwdriver, a hammer, and a welding torch. It might take you a while, but eventually you'd have a working lawnmower and your employees would probably be able to build one without your help. Great. Now ask them to build a combine harvester. Can they do it? No! The sad reality is that knowing one skill doesn't mean that you will automatically understand a related one.
The stories that I provide are carefully developed, precisely designed, and can be used with great success by any trained salesperson. With them, you and your employees can bring in a bountiful harvest year after year. That is my goal: to give you the perfect strategy to ensure your harvest is plentiful.
Course Curriculum
Sell anything to anybody at any time
Available in days
days after you enroll
Data, Facts, and Figures: how and why they kill sales
Available in days
days after you enroll
About me
Available in days
days after you enroll
Frequently Asked Questions
When does the course start and finish?
The course starts now and never ends! It is a completely self-paced online course - you decide when you start and when you finish.
How long do I have access to the course?
How does lifetime access sound? After enrolling, you have unlimited access to this course for as long as you like - across any and all devices you own.
What if I am unhappy with the course?
We would never want you to be unhappy! If you are unsatisfied with your purchase, contact us in the first 30 days and we will give you a full refund.